Build Contemporary Wine Cellars in Small Spaces Using Space-Saving Metal Racks in Las Vegas
VintageView, STACT, Cable Wine Systems, Ultra, Kessick, and Degré 12 are among our most trusted partners in building contemporary style storage structures in Las Vegas, Nevada. These companies design and manufacture high-quality metal racks that maximize limited spaces. Their steel racks are ideal for custom wine cellars built in small areas, like pantries and under-the-stairs closets.  
Contemporary Style Wine Cellars in Your Las Vegas Home — Install Metal Racks
Proper wine storage is essential. Without the right conditions, wine can easily spoil. Many wine aficionados keep their collection in a commercial storage facility for a fee. Some collectors, on the other hand, store their wines in a cellar built right in their homes.  
Residential storage facilities are ideal because they provide convenience and accessibility. However, the usual concern is the lack of space for a cellar to be built. Most of the time, homeowners do have space, but they are unsure if their small area is adequate for the construction of a cellar. The solution is installing space-efficient metal wine racks.  
At Custom Wine Cellars Las Vegas, we build contemporary style wine storage structures even in the smallest spaces. We've built cellars underneath staircases, in tiny closets, small pantries, and more. We maximized the space in these small areas by installing steel displays manufactured by our most trusted partners.  
STACT Metal Wine Displays – Contemporary Style Racks for the Modern Cellar in Las Vegas
STACT's robust steel racks can transform any bare wall into a stunning wine display. These metal racks can easily be installed to any cellar wall. The anodized supports are made from aircraft-grade aluminum and attached to a premium wood veneer panel. You can choose from a variety of finishes to match your Las Vegas contemporary wine cellar design.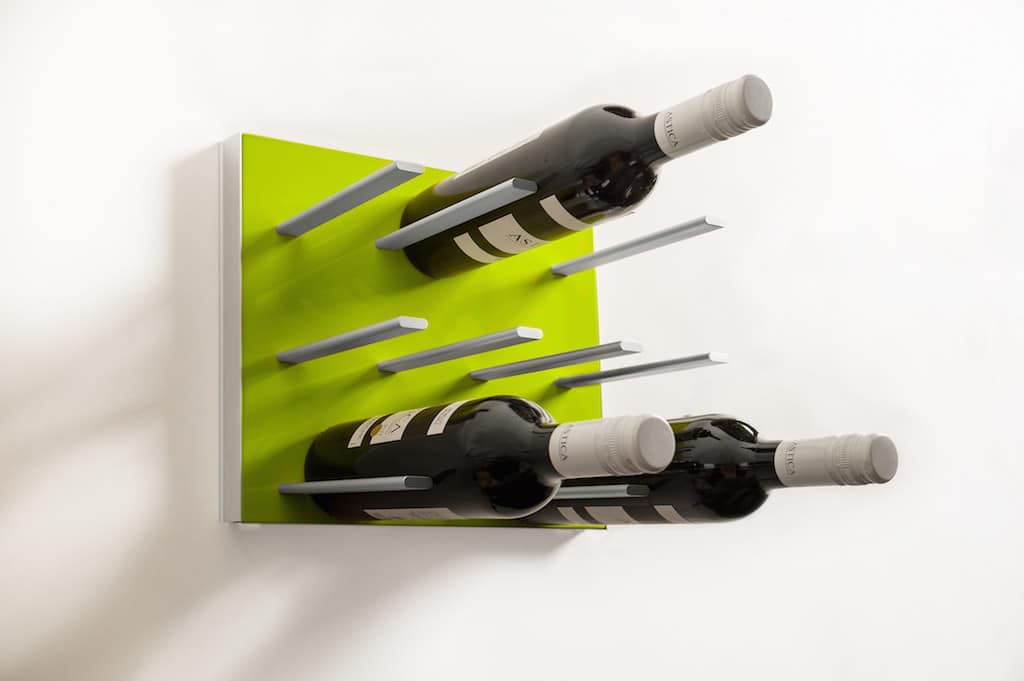 VintageView Metal Racking Systems for the Stylish Wine Collector
VintageView is a reputable metal wine rack manufacturer that offers premium steel displays. They have a wide array of racking system collections that range from wall-mounted to free-standing floor racks. Their metal racks come in various finishes. All their racking systems are built from high-grade steel and are ideal for creating contemporary style wine cellars.  
1. Evolution Series – Contemporary Metal Racks for a Posh Las Vegas Wine Cellar
VintageView's Evolution Series is a flexible wine racking system option. These metal racks can be custom-made to almost any width and height. Depending on the cellar owner, these racks can be made to fit either one, two, or three bottles. The Evolution Series metal displays can be made to reach 7 to 10 feet in height. This series of steel racks are offered in chrome, black, or brass colors.  
2. VintageView Metal Vino Pins
Vino Pins are the VintageView's first peg system that can be mounted directly to any wall – even dry walls! These display systems come in one-bottle sets, which means that they can be customized for any size of wine collection. The Vino Pins can hold 750mL and 1.5mL wine bottles.  
3. Wall Series Singles Metal Wine Racks
The Wall Series deviates from the usual linear rows and columns. Contemporary wine cellar owners can configure these label-forward metal racks in any shape imaginable.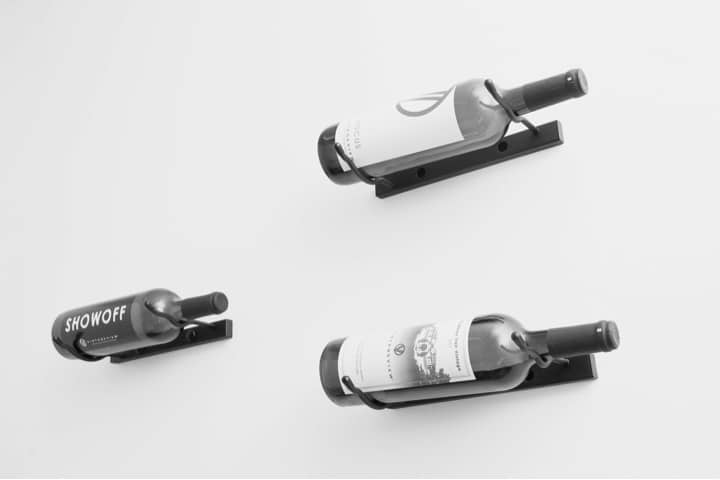 4. Contemporary Vino Rails by VintageView
Vino Rails are best for creating an illusion of floating wine bottles. This series uses extra slim rods that are installed on the walls and store bottles in a cork-forward manner.  
Elegant Metal Racks from Cable Wine Systems
Cable Wine Systems is a top-notch steel display manufacturer in Las Vegas. They take pride in their sleek and trendy metal racks that make bottles look like they are hovering in mid-air. Their racking systems are designed to provide a double cable cradle for each wine bottle.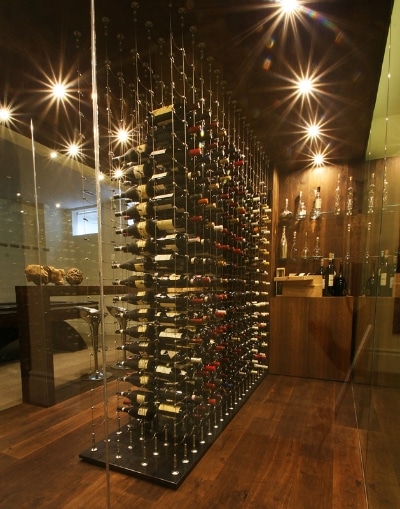 Cable Wine Systems also offers angle bottle displays, accent lighting, and floating shelves.  
Create Contemporary Cellars in Las Vegas Using Ultra Metal Racks
Ultra is another leading metal wine rack manufacturer in Nevada. All of their steel displays are built from commercial-grade metal.  
1. Ultra Peg HZ Series Contemporary Metal Racking Systems
This metal racking series is Ultra's horizontal bottle display collection. To ensure that your wines are safe and secure on each rack, all of the metal rods are built with robust cradles and high-quality rubber O-rings.  O-rings are loops of elastomer used to seal connections. These steel displays are offered in these color options: black powder coat, chrome, and brushed aluminum.  
2. Ultra Peg Series Steel Displays
The Ultra Peg Series display bottles with their necks out. These 9-inches long pegs are built from durable stainless steel. Each peg is ½" in diameter. This series is available in brushed aluminum, chrome, black powder coat, silver powder coat, and clear acrylic.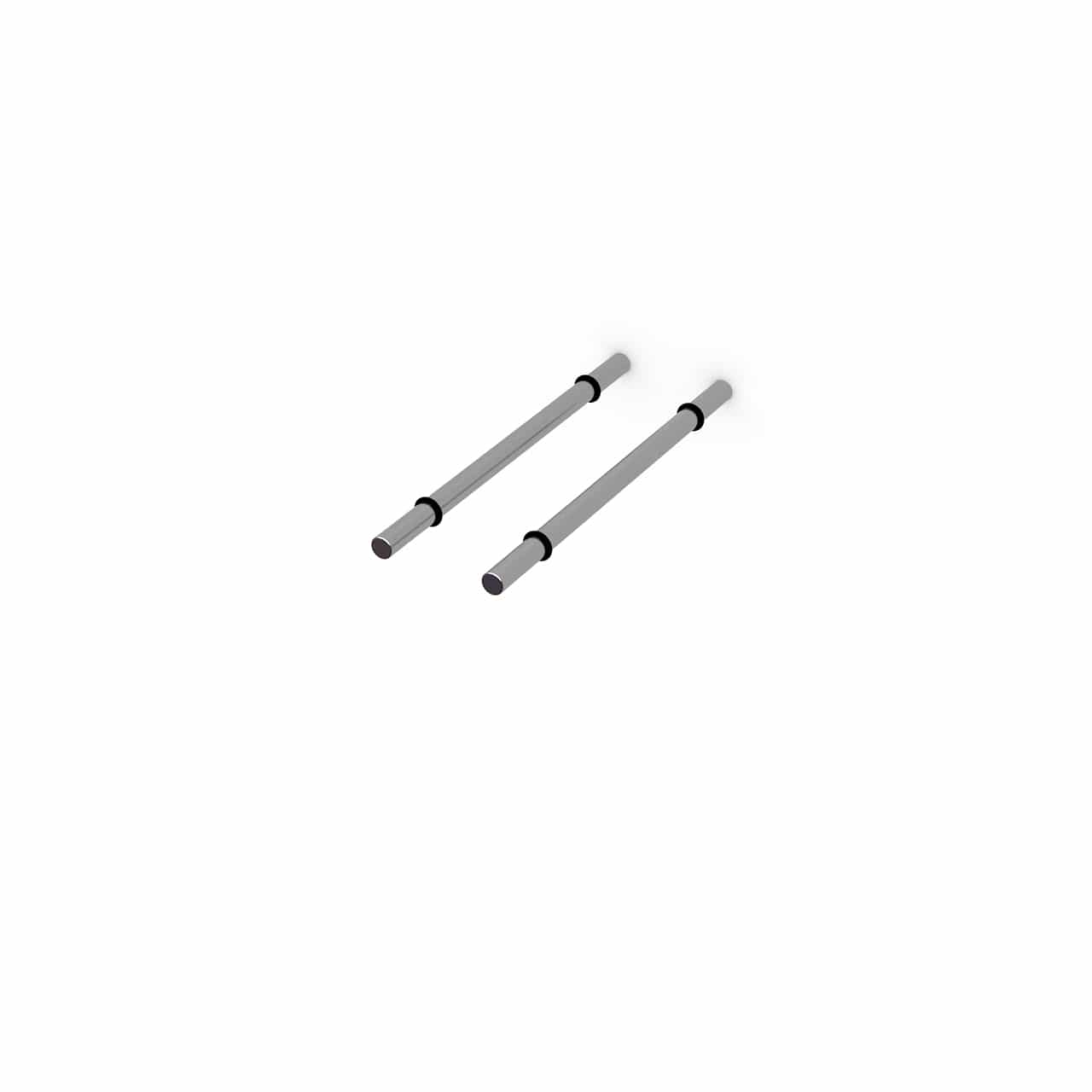 3. Ultra Peg XL Series Metal Racks
This series can hold two bottles with three pegs. They are available in brushed aluminum, wood, and acrylic. The brushed aluminum pegs are 1" in diameter and are 8.25" long. The wood and acrylic pegs are 1" in diameter and are 9" long.  
4. Wine Saddle Steel Display Series for Contemporary Wine Cellars in Las Vegas
Ultra's Wine Saddle Series can be mounted on any existing cellar wall or on Ultra's custom-designed backer board. They can also be installed on Ultra's pre-made panels. This metal series is available in powder coated silver.  
5. Wine Port Metal Racking Series
This steel display series is available in black silver and clear plastic. You can choose to mount these racks on your materials or on Ultra's custom backer boards and pre-made panels.  
High-Grade Metal Racks by Kessick
Kessick offers premier metal racks in Las Vegas, Nevada. Their steel displays are durable and stylish – perfect for contemporary design wine cellars! 
1. eleVate Series Contemporary Metal Racks for Wine Cellars in Las Vegas
The metal racking series is built with bottle cradles that are designed to snap onto the stainless-steel rods. Collectors can store their wines horizontally on these racks. The eleVate series steel displays can easily be mounted on any wall.  
Contemporary Cellar Displays in Las Vegas Using Metal Racks from Degré 12
Degré 12 is one of our long-time partners in building contemporary wine cellars in Las Vegas. Their beautiful and durable metal wine racking series are made from top-of-the-line materials.  
The Classic Series – Stunning Metal Racks for Las Vegas Contemporary Wine Cellars
This modular wine racking system is built from black painted steel. The metal racks are available in various heights and depths.  
Sliding Series Metal Racks for Contemporary Cellars in Las Vegas
Enjoy more versatility with these racking series. There are three options available: trays that display bottles flat, at an angle, and those which are built for wood cases.  
Gravity Series Metal Racks for Wine Cellars with Contemporary Designs
This racking series features elegant black metal pins attached to a metal mast. The racks come with a built-in LED lighting system. They're called "gravity series" because the racks are designed to create an illusion of floating bottles. 
Which type of metal racks is best for your contemporary wine cellar in Las Vegas? We can help you decide! Get FREE advice from our experts by clicking here!