Eco-Friendly Wine Cellar Flooring Options Las Vegas, NV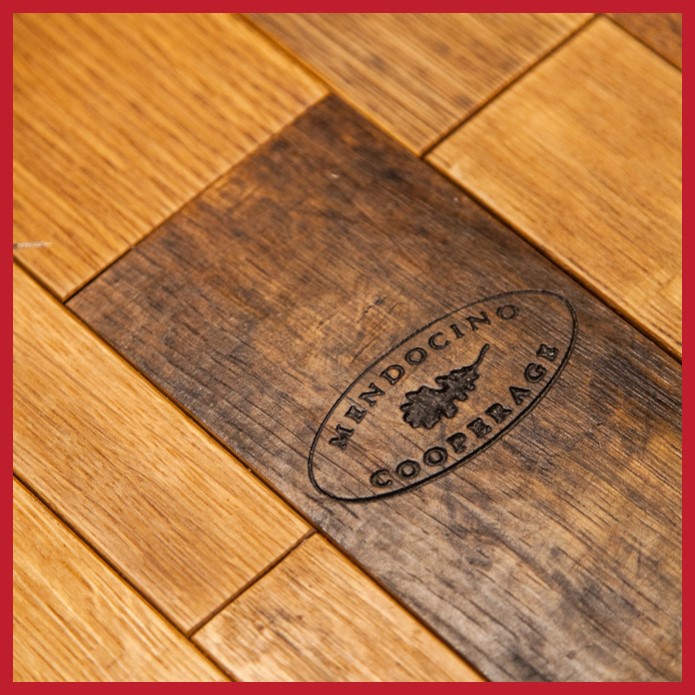 Often times, wine collectors in Las Vegas get so caught up in all the aspects of their wine cellar such as their wine racks or their wine accessories, that they neglect an important area of their wine storage space.
The wine cellar floor is another avenue that can be customized to create an appeal that truly reflects the personality of the owner. There are a number of interesting choices for flooring that are available on the market in Nevada. Here we will examine two stellar examples: oak barrel flooring and nautical timber flooring.
Oak Barrel Wine Cellar Flooring
A wine cellar with oak barrel flooring is certain to have quite the character. Oak barrel flooring creates a sleek look with its engineered hardwood planks. Often, you will even be able to see the original label on the oak barrel, which infuses your wine cellar with a bit of history and heritage.
Because it is made of oak, and oak is a hardwood, your floor will be durable and great looking.
It can support any kind of wine racking system along with high traffic and furniture that you might want to install. It can last for centuries because of its sturdy nature.
For example, over 200-year old reclaimed oak barrels are still available on the market, and they still look exquisite.
Why is this possible? Oak, like wines you lovingly store in your wine cellar, actually gets better with age.
The colors become richer, and even the finish evens out into a more elegant hue. The grain and knot patterns of oak give it a very rustic and homey feel. This will go well with wine racks that have a vintage look.
On the other hand, if you want to enhance the look of your oak barrel flooring to make it more modern, oak barrel floors take staining and coloring quite well. You can go from light modern hues to rich dark ones with your oak barrel floors.
Nautical Timber Wine Cellar Flooring
Antique nautical timbers are wood that was used in constructing deep water ports. They were used in building cribbage and ballasts for the enormous ships that sailed the seas from the 1870s to the 1940s.
Nautical timber was gathered to be used as firewood and stacked at different ports. More than 70 kinds of wood species have been identified in nautical timbers, and many more are still unknown.
Nautical timber is converted into wine cellar flooring through a meticulous process of re-sawing them to preserve the marks that they have acquired throughout the years. These marks give this wood character. This is the material of choice these days for most wine cellar builders in Las Vegas NV. This type of material has a great range of color, which is sure to imbue any wine cellar with a very unique, customized look.
Comparing Oak and Nautical Timber Wine Cellar Flooring
The main similarity between the two types of wood is that they are both an environmentally friendly way of re-using old wood. Instead of ending up in a landfill, using these flooring options gives them a brand new lease on life.
However, one difference between the two is that oak barrels need to be colored in order to achieve different looks, while nautical wood, by virtue of coming from different wood species, comes in a variety of colors already.
In any case, both oak barrel and nautical timber will give any wine cellar a unique, customized look. In fact, they enhance and complement the style of your custom wine room, giving it history and character.
Local Specialists In Wine cellar Flooring Products