Las Vegas, Nevada – Custom Wine Cellars & Refrigeration Systems Raymond Project by Arctic Metalworks
Arctic Metalworks, a premier designer and wine cellar refrigeration systems specialist in Southern Nevada, recently completed a custom wine cellars project in Las Vegas, Nevada.  The uniquely customized private wine room was designed and constructed for the former South African professional tennis star Raymond J. Moore. Read on to learn more about this awesome projects by HVAC experts. 
Impressive Job by HVAC Experts in Las Vegas, Nevada: Wine Cellar Refrigeration Systems Installation Project for a Tebnnis Star
Ray Moore hails from Johannesburg, South Africa.  He won 8 double titles during his career, and also represented his country in several Davis Cup competitions.  After his pro-tour career had ended, Ray Moore remained active in the tennis world.  He currently manages the BNP Paribas Open event at Indian Wells Tennis Garden..
Another thing (outside of tennis) that Moore is passionate about is wine.  In fact, he co-owns a vineyard with his sister Corinne, called the Wine Tree Farm.  He also has a number of rare bottles in his wine arsenal, such as a 1982 Château Haut-Brion and a 1986 Chateau Lafite.
Arctic Metalworks added a unique feature to this custom wine cellars Las Vegas, Nevada project that provided a safe enclave for Moore's rarest and most valuable wine bottles. Drawers with individual bottle cradles create a private space, within which rare wines can age in seclusion, away from light exposure.
Sophisticated Custom Wine Racks
All the wine racking for this residential custom wine cellars project was hand-built and custom made in black walnut wood.  Black walnut lumber is known for its attractive grain pattern, exceptional durability, and rot-resistant qualities.  Moore preferred the unfinished look, hence the pale appearance of the finished product.
The team combined various racking styles to create a unique wine display for the client's wine collections. The racking design consists of single bottle storage, large X bins, high-reveal display rows, an arched opening, case storage bins, drawers, and cabinets.
How Experts in Wine Cellar Refrigeration Systems Created the Proper Wine Storage Environment
To maintain optimum conditions inside this Las Vegas home wine cellar, Arctic Metalworks supplied an Arctic 0500 Split System.  A split system is divided into two units: an evaporator unit and a condensing unit.  The evaporator is mounted inside the wine room, while the condenser is placed in a remote location.  The components are connected by a line set.  This setup promotes a noise-free environment that is very conducive to wine aging.
For this custom wine cellars project, the condenser was placed in a 5-car garage.  The large garage is big enough to contain heat created by the condensing unit without causing compressor burnout. The condenser was connected to the evaporator by an existing line set that extended over 50 feet.  The complete refrigeration installation was done in 10 hours.
Arctic Metalworks provides a proactive wine cellar refrigeration maintenance plan, along with a labor and parts warranty.  The wine cellar refrigeration maintenance program includes three annual visits to check the cooling unit and keep the outdoor system free from dirt and debris.
Work with Us! We Offer High-Grade Wine Cellar Refrigeration Systems from Top-Notch Manufacturers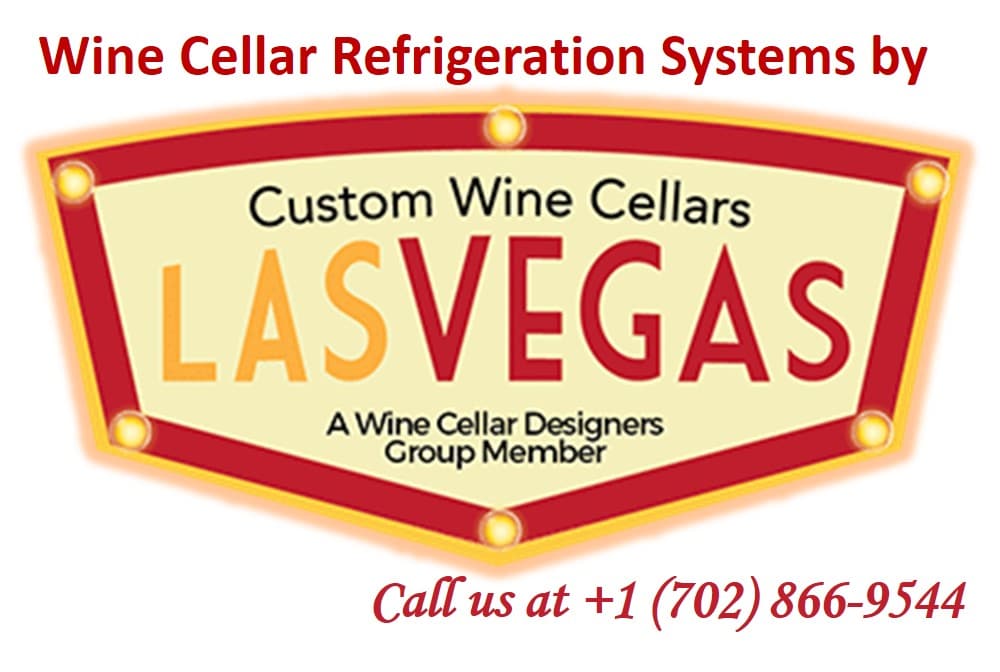 The entire Nevada wine cellars installation, including the racking solutions and refrigeration equipment, was designed and built by Arctic Metalworks.  To ensure that the proper insulation, vapor barrier, flooring material, and lighting fixtures are installed, the Arctic team worked closely with the general contractor of the home.
Arctic Metalworks is touted as the wine cellar refrigeration guru of Southern Nevada.  Their refrigeration equipment is designed to fit various cooling needs and requirements.  They also have a service team on standby in case wine cellar refrigeration maintenance and repair are needed.
If you are looking for HVAC experts or master wine cellar builders for your project, please call us at (702) 866-9544.