What are the Best Wine Cellar Lighting Options Available in Nevada?
When planning for the design of a custom wine cellar, the type of lighting fixtures to be installed are among the many things considered. There are various kinds of lights on the market, but not all of them can be installed in a wine room. Wine storage specialists strongly recommend the best use of lighting systems are ones that will not harm your wine collection and also help you conserve energy. Be wise in selecting concealed lighting and lamp types for your wine cellar.
Five Top Lighting Fixtures for Your Custom Wine Cellar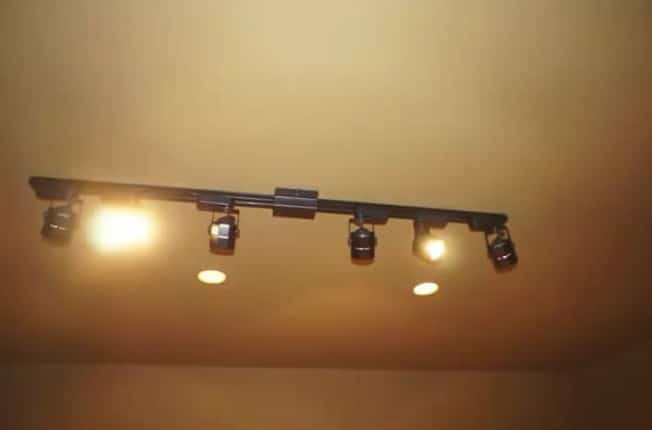 Custom Wine Cellars Las Vegas has worked with a number of builders and contractors in Nevada. The wine storage lighting specialists that we've teamed up with in several construction projects have always been generous in giving our clients expert advice. When we work for a new client and plan for the design of a wine room, one of the things we plan for is the lighting setup. Our consultants always recommend only the best lighting fixtures for cellars.
Here are the top choices of wine cellar lamps and lighting fixtures:
1. Recessed Can Lights
This type of lighting is like the spotlight of cellar lights. Recessed cans cast light in a downward direction. The illumination they produce can be directed to a single area in your cellar so that you can highlight specific parts of your wine room.
Recessed lighting creates a very sophisticated ambiance in a wine cellar. This kind of lighting fixture comes in various sizes, shapes, and styles.
2. Halogen Lights
This is actually a type of recessed lighting system. What's unique about halogen lights are their baffles, which are used to control the lamp's brightness and minimize glare.
T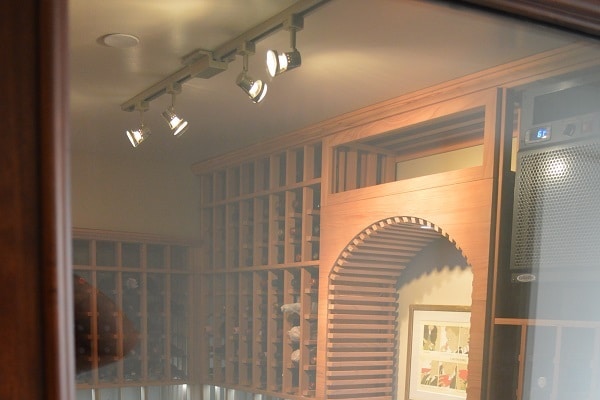 he bulbs used in cellar halogen lights typically have a protective coating to minimize their production of ultraviolet rays.
This is necessary to protect your wines from damage caused by exposure to UV light. Ideally, halogen lighting tracks must be installed at least 18 inches off the cellar walls, so that they are kept away from the wine racking. The heat that halogen lighting systems produce can spoil your wines if the lamps are in direct contact with the racks.
3. Track Lighting
Track lights, like recessed can lights, are also a type of directional lighting system. The track heads can be adjusted and redirected as you like. This is a good option for highlighting certain areas in your cellar, such as your high reveal display racks. Typically, this kind of lighting fixture is installed on the ceiling, but you can also opt to have it mounted on the cellar wall or on a set of cables.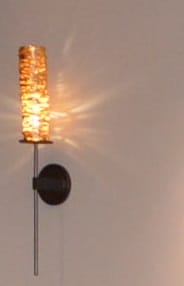 4. Wall Sconces
Sconces are a type of lighting fixture that are affixed to your cellar wall. We can trace the use of sconces to medieval times where they used them to secure candles or torches to the walls of homes and buildings. Today, there are various kinds of electric sconces on the market, such as electric candle and electric bulb sconces.
Wall sconces are ideal for wine rooms with limited space, because this type of lamp frees up floor space. Typically, sconces are installed approximately 6 feet above the floor, which is the minimum height needed for the fixture to cast adequate illumination to a wine cellar.
If positioned lower, the lamps can make the room look smaller. They can be prone to damage too if they are placed too close to the ground. Furthermore, if you plan to install more than one sconce, make sure to mount them at least ten feet apart.
5. Chandeliers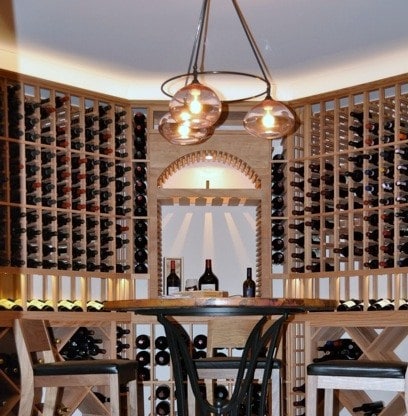 In the days where kings and queens ruled the earth, castles and towers were made to look more regal by hanging grand chandeliers in their courts and hallways.
Today, you can effectively create a luxurious feel inside any room by installing a chandelier. These lighting fixtures can easily be mounted on the ceiling of your wine cellar. A simple wine room can instantly look more extravagant by just adding a chandelier. This lighting installation immediately becomes the decorative focal point of the storage space, and it takes the cellar design to a whole different level.
Besides the variety of styles and designs, chandeliers also come in different sizes. Storage experts recommend that the size of your chandelier should be proportionate to the size of your room. The larger the area, the larger the chandelier needed.
6. Accent Lights
Accent lighting, which includes rope lights, tape lights, and light strips, can be used to elegantly highlight archways, arches, corners, shelves, etc. This kind of lighting adds extra pizazz to your wine cellar.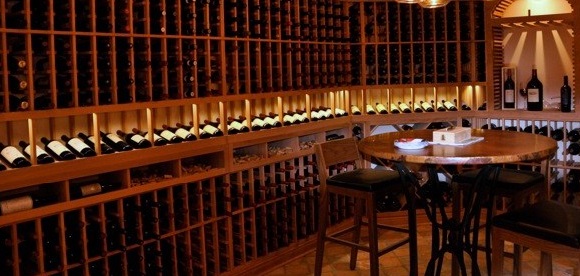 Wine storage professionals highly recommend the use of LED lights for your accent lighting systems. Since the lights are installed very close to the bottles, it is imperative that the bulbs do not emit ultraviolet rays and produce minimal heat. LED-based lighting fits these requirements. LED lights produce the same brightness as incandescent bulbs, but do not emit UV rays. LED lighting is also energy-efficient and is long lasting.
LED lighting fixtures are more expensive than regular lamps. But, their longevity makes them worth the investment. Moreover, since they last longer than the average lighting fixture, you get to save more money in the long run.
Consult a Nevada-Based Wine Cellar Design Expert
It's always a challenge to create a unique design for a wine cellar. You first have to know the latest trends and the most common styles. Consulting with our wine storage design specialists can help you craft a one-of-a-kind cellar that reflects your personality. Our experts will guide you through the process of planning for your custom-designed wine room from beginning to end. We'll include guidance in choosing the best lighting options for your cellar too!
Contact us today and get a distinctive custom wine cellar design! Click here!