Custom-Designed Premium Wine Cellar Doors in Las Vegas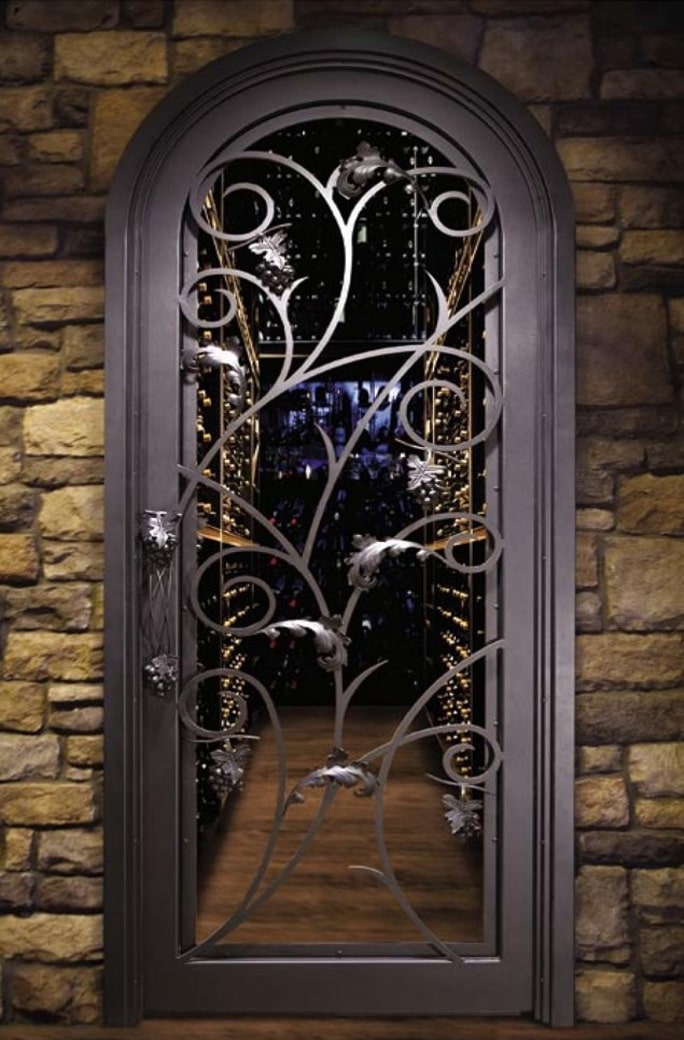 The entryway to your wine casa sets the mood on what to expect inside your residential or commercial wine cellar. Aesthetically, you need to make sure that the door is designed to match the overall style of your storage room. Functionally, the cellar door must be built to keep the temperature and humidity inside the storage facility at the ideal levels. Custom Wine Cellars Las Vegas offers premium custom-designed doors that can meet your storage requirements and aesthetic preferences.  
Custom-Designed Premium Wine Cellar Doors in Las Vegas
Wine cellar doors are built for two purposes, and they are: 
To enhance the aesthetic quality of your custom wine cellar. 

 
Custom Wine Cellars Las Vegas builds custom-designed entryways that are both functional and aesthetically superior.  
Various Types of Wine Cellar Doors in Las Vegas – Wooden, Glass, and Wrought Iron
Wine cellar doors in Las Vegas can be made from one or a combination of the following: wood, glass, and iron. The material you use for your entryway depends on the style you want to create for your wine room. Choose one that reflects your personality and matches the overall design of your wine cellar.  
Wooden Wine Cellar Doors
In constructing wooden doors, our team here at Custom Wine Cellars Las Vegas combines classic techniques as well as modern methods: 
ClassicTechnique: Mortise & Tenon

 
The Mortise & Tenon technique is one of the oldest methods used by woodworkers to join pieces of wood. This technique is still being used today because of its simplicity and superior strength.  
Modern Method: Use of Laminated Veneer Lumber (LVL)

 
The core of our wine cellar doors is made out of Laminated Veneer Lumber or LVL. This material is a type of wood product made out of layers and layers of thin wood that have been combined together using a strong adhesive. The composite nature of this product makes it less prone to warping and shrinking. Moreover, LVL has higher insulating qualities than regular wood. To achieve the natural appeal of solid hardwood doors, we add a thick layer of solid wood on top of the core LVL.  
Types of Wood Species for Wine Cellar Doors in Las Vegas
An effective wine cellar door needs to effectively seal and insulate the storage room, so that the wines stored inside are kept safe from spoilage. That is why if you choose to use wood for your wine room's entryway, it has to be durable and highly resistant to moisture and mildew. There are numerous wood species on the market that can be used in building wine cellar doors. Mahogany, Redwood, and Pine are the most popular wood species sought after by wine cellar door manufacturers in Las Vegas. 
Mahogany 
Mahogany is a popular choice because it is durable, non-aromatic, and easy to handle. Its prominent natural color schemes and exquisite finishing results are also among its standout qualities.  
Mahogany has many subspecies available, which includes Genuine, African, and Malaysian Mahogany. Malaysian Mahogany is the top choice among wine cellar door fabricator in Las Vegas. 
Redwood
Redwood is known for its soft earth tone color distinctions, which develop beautifully over time. It is also non-aromatic and can withstand highly humid conditions. Redwood does not stain well due to the oils present in the wood. Most wine cellar door manufacturers in Las Vegas leave Redwood unfinished or unstained.   
On the market, you will find that Redwood comes in two choices: All Heart Redwood and Premium Redwood. The former is much darker and consistent, while the latter has more color variations and is less expensive.  
Pine
Pine is the most affordable among the three. It is the best choice for those who want to achieve a rustic-style wine cellar.  
Pine is quite lightweight and moderately soft. Take note that it has a weak bending capacity and low resistance to shock.  
Glass Wine Cellar Doors
Although glass doors are commonly used for modern and contemporary wine cellars, it actually is timeless. Glass doors can be installed, not only in contemporary wine cellars but also in traditional style wine rooms. 
Custom Wine Cellars Las Vegas only uses ½" thick dual pane glass. This is to ensure that the door can effectively seal the cellar and also prevent condensation forming around the door and on the glass. Dual paned glass is built by attaching two panes of glass together. These glass panes are sealed around the edges, leaving a thin space in between the panes. The tiny space that is sealed-inside the panes is the key to preventing condensation from forming.
Insulated glass doors are also an ideal choice for storage rooms because they emit minimal heat. This low heat emission property is essential because heat transferred through the glass panes from outside the cellar is substantially reduced. Contemporary glass wine cellar doors in Las Vegas also protect wines from exposure to ultraviolet rays, which can cause early spoilage.  
Wrought Iron Doors for Wine Cellars in Las Vegas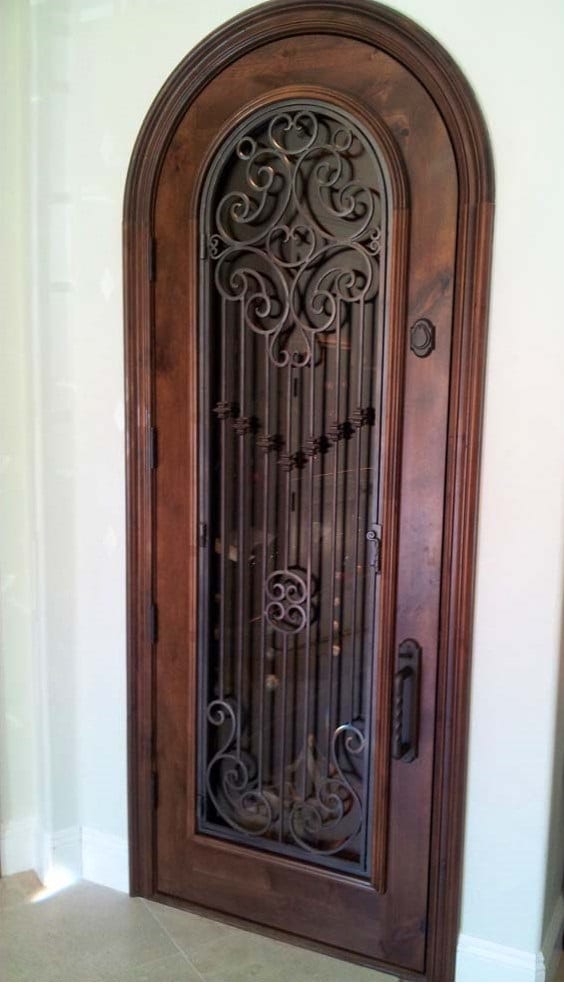 Custom Wine Cellars Las Vegas offers hand forged wrought iron doors that are made to meet the design requests of each client. These doors are usually a combination of wrought iron on top of dual-pane tempered glass. We use a combination of 16 and 18-gauge wrought iron for our doors. The iron is custom-designed, have intricate patterns and details that add character to a wine room. The interior glass panels can be opened and closed, so that they can easily be accessed for cleaning and maintenance.
The most popular wrought iron designs include Barolo-style and Tuscan-style doors.  
Work with a Top-Notch Residential Wine Cellar Designer
Custom Wine Cellars Las Vegas is one of the most reliable wine cellar companies that designs, manufactures, and supplies high-quality wine storage systems. We have built beautiful traditional and contemporary residential wine rooms. If you need help with your next project, call us at (702) 866-9544!