Wine Room Expansion Project: Expert Manufacturer Doubles the Size of a Custom Wine Cellar in Las Vegas, Nevada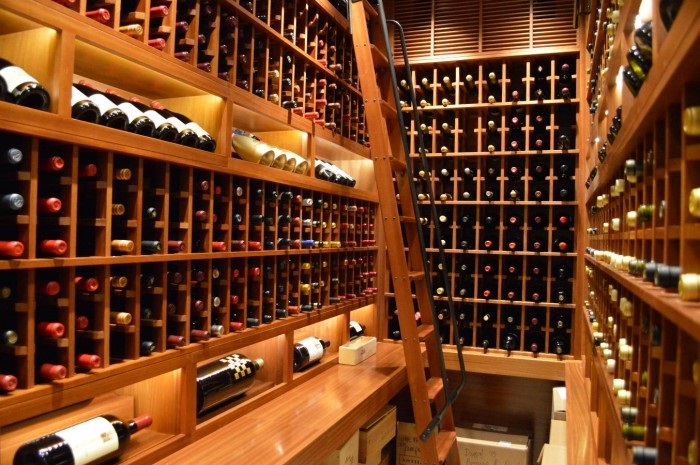 You started with one bottle, and then, your eyes were opened to the world of wine collecting. You began visiting various wine stores in your county and purchased a couple more vinos. From one bottle, you then had ten in your stock. To have a safe place to keep your bottles, you had a small wine cellar manufactured. But, your hunger for more didn't stop there! When you went out of town, you made sure that you brought back a vintage from the place you visited. Then, in no time, you already had more bottles in your collection than your wine room could accommodate. You realized that you needed to increase its bottle capacity. Since you love your wines and you give importance to how they are stored, you understand that the expansion of a custom wine cellar must be done by an expert. That's why you contacted a master designer.
Custom Wine Cellars Las Vegas Completes an Expansion Project for a Client in Nevada
When wine collectors find that their storage structure cannot accommodate anymore their growing collection, they hire a manufacturer who can renovate their cellar to expand its bottle capacity. There are various manufacturers in Nevada who can do this job, but not all of them can create a design that will satisfy clients. You see, it's not enough to hire someone who can build functional cellars. It's important also to make sure that the fabricator you get can construct aesthetically pleasing structures.
Custom Wine Cellars Las Vegas is one of the most trusted construction companies in Nevada that can build functional storage rooms with aesthetically superior designs. We've consistently made sure that our clients are satisfied with the work we do. All the clients we've worked with have praised not only the structural aspect of the cellars that we've built, but also the designs we've created for them.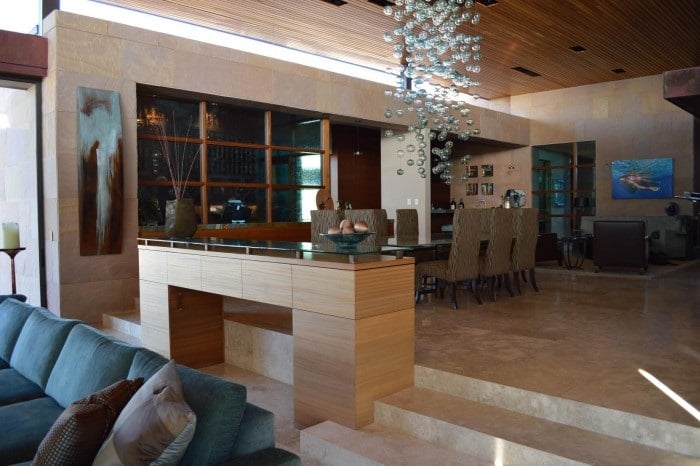 A recent client in Las Vegas, for example, absolutely loved the cellar we created for him. It was a second installation project, which means our team of experts came in to renovate the client's existing wine cellar to increase its storage capacity from 1000 bottles to 1700 bottles. We created a beautiful contemporary design for the client to complement the aesthetics of his home.
Wooden Wine Racks to Match the Contemporary Design of the Client's Home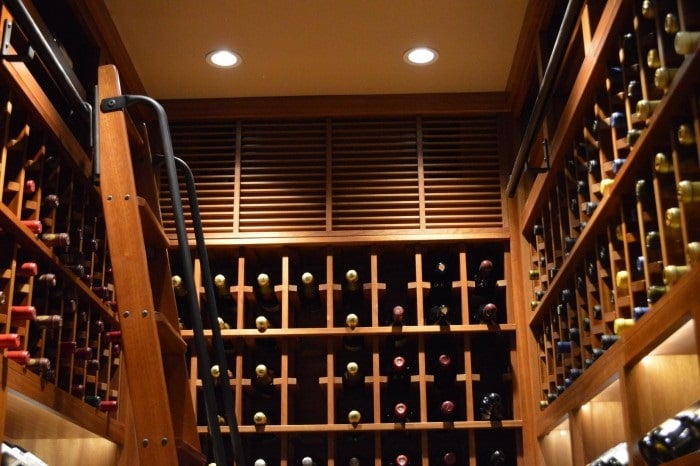 The client's home had a very modern design. There was a mix of wood and glass elements in the house. The wooden furniture was made from Sapele Mahogany. Our wine storage designers made sure that the wooden racks installed in the client's cellar were made from the same wood, so that the wine room's design would match the theme of the entire home.
Sapele Mahogany is one of the most popular wood species used for constructing wine storage facilities. The material is known not only for its durability, but also its beauty. Sapele Mahogany has a stunning reddish brown color that develops beautifully as the wood ages. The product also has wavy patterns and interlocking grains, which add an interesting character to the racking.
Right Wall Racking (Elevation 1)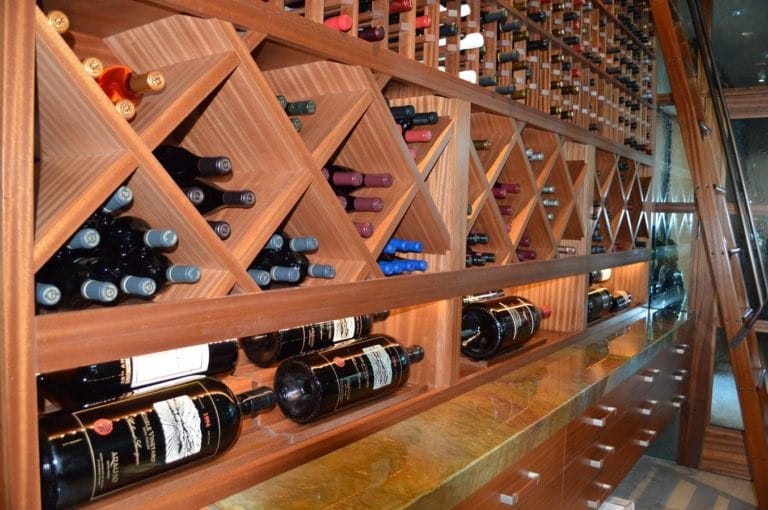 The first set of racks that can be seen when entering the client's residential custom wine cellar is the ones installed on the right wall.
Originally, this wall had individual racks installed at the top section, a wooden cover for the HVAC equipment, and a set of drawers below the tabletop. There used to be an opening at the bottom of the wall where wine boxes could be kept.
When our team of master designers renovated the home cellar, diamond bins were added to the middle area of the right wall racking. These storage bins were added to allow better organization of the bottles. The owner can keep wines in bulk according to variety or label. Diamond bins are ideal for wine cellars with small spaces because each opening can accommodate up to nine bottles.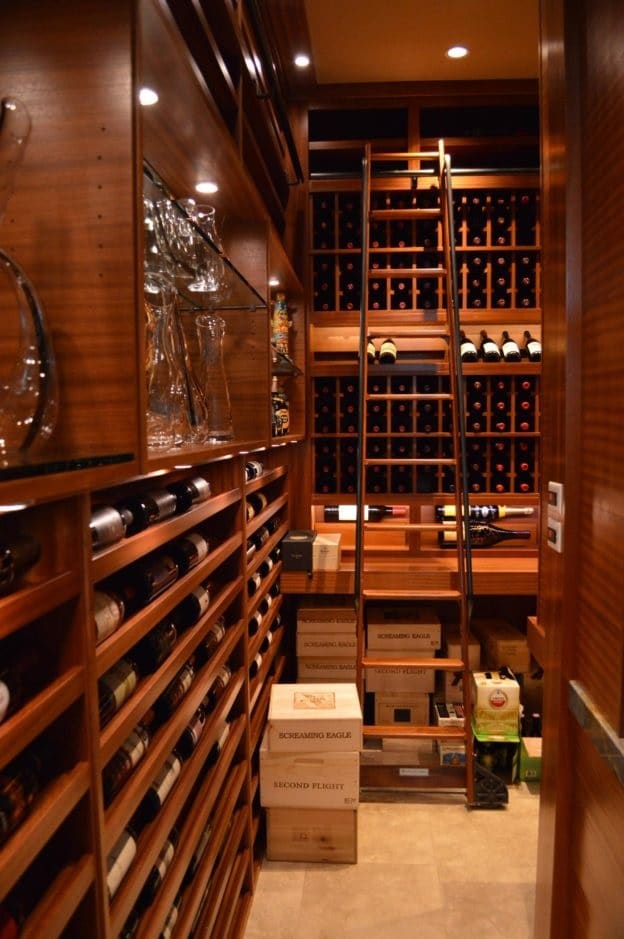 Besides the bins, a wider storage area was also built for the client's large format bottles. Coved trays with two cascading heights were installed, so that bottle labels can be viewed easily. Also, the unique design of this section creates a distinctively modern character to the custom wine cellar.
Left Wall Racking (Elevation 2)
On the left wall of this residential custom wine cellar, our team of fabricators mounted three columns of horizontal wine racks with a display area in the middle. These 4 ¾-inch deep racks store wines lying on their sides. The label-forward design of the racking system helped the client find specific bottles easily, since he can identify the wines at a glance.
The display area had a depth of 8 ¼ inches, and it was meant for showcasing the client's collection of mini cars and decanters. Our team added glass shelves to the display area, which made the racking look more contemporary. Moreover, a lighting fixture and a mirror at the back of the glass shelves made the display area look stunning!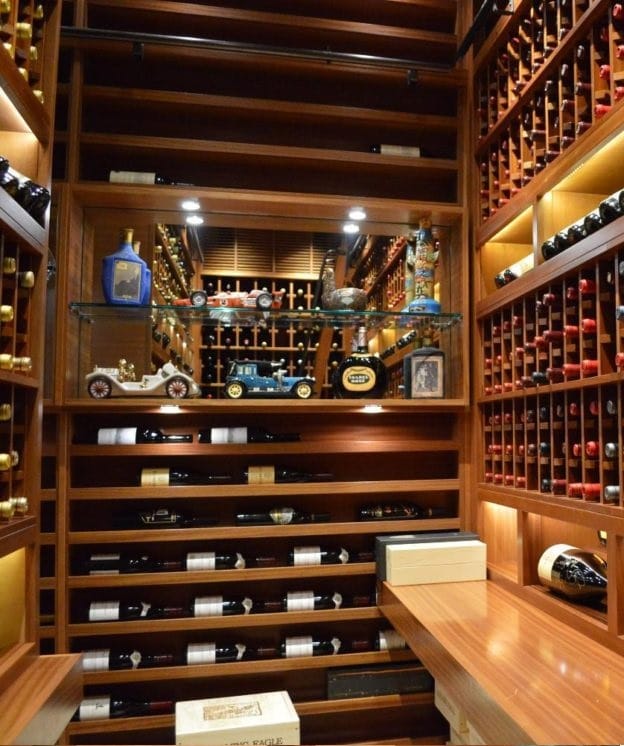 Elevation 3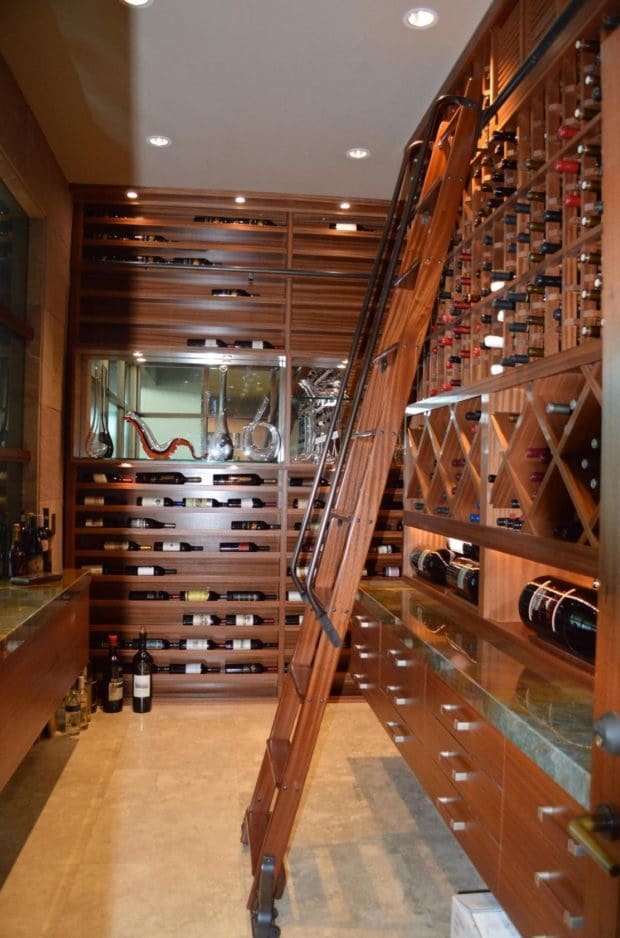 Elevation 3 is made up of a racking system that includes single bottle openings, coved trays, and cabinets with scalloped neck supports. Our team of expert designers also added a shelf with a wide area beneath it, which was intended for storing wine boxes.
Elevations 4 and 5 
Elevation 4 is a wall that had wine racks for magnum bottles installed. Another wooden cover was mounted at the top part of the wall to hide the HVAC unit.
Elevation 5 had individual storage wine racks installed. The racking system could accommodate standard bottle sizes.
Need to Have More Storage Space in Your Wine Cellar? Entrust the Expansion of Your Custom Facility to an Expert! 
We, at Custom Wine Cellars Las Vegas, can help you create a structure that can meet your storage needs. Whether you have ten or a thousand bottles in your collection, we can help you build a cellar that can house all of your wines. Contact us today, so that our specialists can create for you FREE 3D drawings of your desired wine cellar design! Click here!