Custom Wine Cellars – Excellent Work in Newport Beach Nevada by Custom Wine Cellars Las Vegas
Custom wine cellars are increasing in demand in many parts of Las Vegas,  including Nevada. When built by a professional, your wine room can be a unique feature in your home, and it will safeguard your wine collection for many years to come. 
Custom Wine Cellars Las Vegas in Newport Beach Nevada: Impressive Wine Cellar Design 
The internal structure of a climate-controlled wine cellar space requires detailed design planning and careful construction in order to create an environment that is ideal for cellaring wines. Functional and stylish are two common characteristics found in most modern residential wine enclaves.  They are not only designed to facilitate the proper aging of wine collectibles but also to reflect the wine lifestyle of the collector.
The construction of a residential wine room is a collaborative endeavor between wine cellar contractors and their clients.  At this stage of the project, materials for various wine cellar components, such as the entry door, flooring, and racking systems, are meticulously selected to provide the required performance, as well as add to the aesthetic appeal of the custom wine cellar design.
Impressive Residential Wine Cellar Design Created by Experts in Building Nevada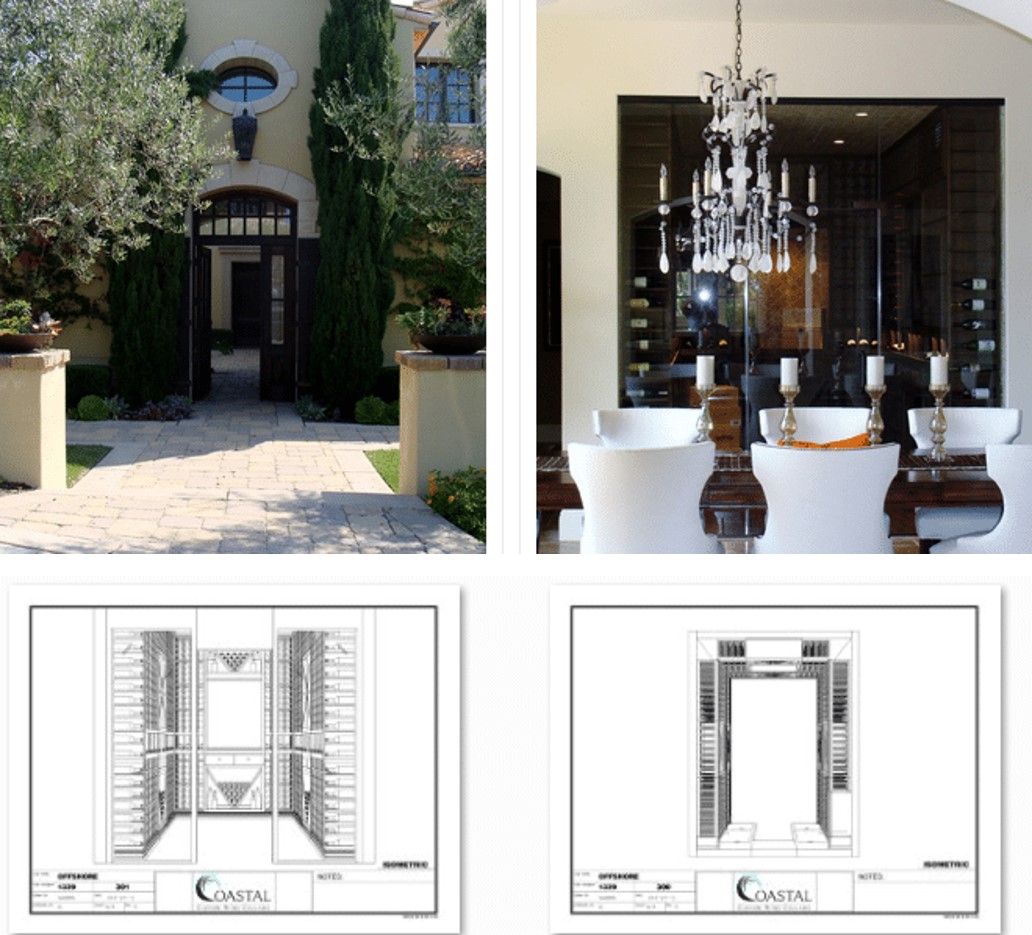 This newly installed residential wine cellar in Newport Beach, Nevada, is a picture of a well-designed dedicated custom wine room.  Custom Wine Cellars Las Vegas converted a large storage room adjacent to the formal dining area into a wine cellar space.
It measures 11' x 8' x 9.5' and was designed to accommodate a total of 1692 wine bottles. This custom wine cellar was constructed in a way that enhanced the brick veneer walls and ceiling of the living space.
Custom Wine Racks: Styles and Features
Custom Wine Cellars Las Vegas and Coastal Custom Wine Cellars installed half-diamond bins and diamond cubes on the wall directly across from the glass entrance.  These storage solutions have huge openings that face the back wall and provide excellent visibility to the gorgeous brick veneer wall surface.  A tabletop with a herringbone pattern backdrop adds a tasteful visual appeal to this residential wine room.
Wine Barrel Flooring and Wine Cellar Doors 
Barrel stave wine barrel flooring gave the wine cellar space a look that is a cut above the rest.  Reclaimed Napa Valley wine barrel flooring brings a sense of wine country to this elegant residential wine room.  Wine barrel flooring from barrel staves displays beautiful markings that come from removed metal rings.  Barrel staves make up the side part of the wine barrel, which is held in place by steel hoops.
Since the wine storage space is to be actively cooled, Custom Wine Cellars Las Vegas teamed up with the refrigeration gurus of Southern Nevada: Arctic Metalworks.  Arctic manufactured and installed a split wine cooling system, in order to create a storage environment that is free from fan noise and warm exhaust.  The unit is split into two units, wherein the evaporator is placed inside the wine room and the condenser is installed outside or in a remote area.
Arctic Metalworks mounted the evaporator unit within the racking frame and concealed it with an oper
able louvered grill cover.  The louvered panel is crafted from the same wood variety as the wine racking to create a clean, smooth appearance.
Work with Our Experts in Building Custom Wine Cellars
Custom Wine Cellars Las Vegas and Coastal Custom Wine Cellars work together to create residential wine rooms designed with form and function in mind. We are composed of designers, builders, and HVAC technicians who have extensive knowledge and experience in wine cellar construction.
If you are planning to transform a space in your Nevada home, please do not hesitate to call us at +1 (702) 866-9544.