An Interior Designer's Dream Home Custom Wine Cellar in Sausalito, Nevada
People hire interior designers to help build their homes, because these professionals have an eye for style. But in a recent project in Sausalito, Nevada, instead of constructing her home wine cellar by herself, an interior designer hired a master builder to help her create a functional and aesthetically superior residential wine storage structure. The fusion of ideas from the client and the contractor created a masterpiece – a sophisticated custom wine room with stunning features that are to-die-for!
Master Wine Cellar Builder Works with a Client Who is an Interior Designer for a Construction Project 
Custom Wine Cellars Las Vegas had just successfully completed another storage room construction project in Sausalito, Nevada. The client, this time, was an interior designer. She had very detailed design ideas for her wine cellar. It was a challenge for our builders to make sure that all of her instructions were followed, because we wanted to create the specific custom wine room look she wanted us to achieve.
The client had an elaborate wine cellar design plan in mind. So, all our builders had to do was convert her thoughts into a reality! She wanted us to use traditional wooden racks that were dark in color, so that it would match the modern aesthetics of her house. She also had a selection of flooring and ceiling materials, as well as lighting fixtures she wanted our team to install in the custom-built wine room.
Not an interior designer? No problem! Custom Wine Cellars Las Vegas has a team of design specialists that can help you create a sketch of your dream storage room! Call us today and we'll give you 3-dimensional drawings of your wine cellar for FREE! Click here!
Building a Modern-Vintage Home Wine Cellar Using Various Design Elements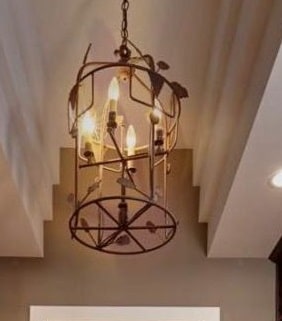 The room where our team was to construct the wine cellar was small and narrow. It was 96 inches tall, 102 inches wide, and 87.5 inches long. The area can be likened to a cathedral because its ceiling was higher at its center compared to its level at the sidewalls. There was a metal chandelier hanging in the middle of the space, which the client wanted to keep in the cellar because it helped create a contemporary ambiance in the structure.
Traditional Wooden Custom Wine Racks for a Contemporary Old-Town Ambiance
The client wanted wooden racking systems installed in her wine cellar to create a rustic modern ambiance. Our team of specialists used racks made from Knotty Alder, which is one of the most popular and most durable wood species used for cellar construction.

Knotty Alder is one of the top choices for building custom wine racks not only because of its durability, but also because of its unique aesthetic value. This type of wood has elegant clusters and knots that add character to the racking systems. Knotty Alder is one of the more affordable wood species available on the market.
A combination of wine rack styles was used in this project to maximize the cellar's storage capacity. The types of racking systems installed include:
Beautiful Individual Wine Racks and a Stunning Display Row

The individual wine racks installed in this beautiful residential custom wine cellar could accommodate standard 750ml bottles. The racking design was with the bottle corks or caps facing out.
The middle section of the individual racking system had a display row included. Wine bottles could be laid down slanting at a 15-degree angle.
Elegant Arch and Countertop to Add a Focal Point to the Racking System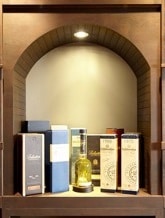 An arch and countertop were also added in this wine cellar construction project. These stellar features added a distinctively posh character to the custom wine room. The countertop was to be used as an area where the client could keep wine tasting rudiments and accessories.
Gorgeous Diamond and Wood Case Storage Bins for Large-Format Wines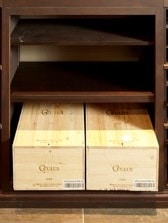 The client enjoys purchasing wines in cases. The team of builders made sure that the client had adequate storage to keep wines by bulk. Diamond and case storage bins were added to the cellar in this project. These types of racking systems are ideal for sorting bottles according to style, variety, and size.
The rectangular bins were meant for keeping the client's wines in wooden cases. Each of the three shelves can accommodate two cases.
Dramatic and Energy-Efficient Wine Cellar Lighting Systems
Interior designers know the importance of a well-planned lighting setup in the house. The right lamps and fixtures will not only illuminate a room, but also create a dramatic ambiance. But, the lighting systems in a wine cellar should be chosen carefully. Unlike a regular room, wine storage structures need to be kept at an ideal temperature and humidity to protect the wines from damage. The wrong types of lighting can cause fluctuations in the climate conditions in the cellar and spoil the bottles stored inside.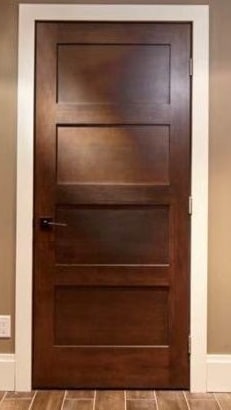 In this Sausalito construction project, the client decided, with input from the team of builders, to install LED lighting fixtures in her home wine cellar. LED lights are ideal for refrigerated rooms because they do not emit too much heat, and therefore, they will not alter the temperature and humidity levels in the storage space. Moreover, LED lamps consume minimal energy compared to incandescent and fluorescent bulbs.
Modern Wine Cellar Design Specialist in Las Vegas, Nevada

Want to have a wine storage room built in the comfort of your home? We, at Custom Wine Cellars Las Vegas, can help you construct a custom wine cellar that suits your design preference. Our team of contractors has many years of experience building aesthetically superior wine storage facilities for residential and commercial purposes. We can offer you a FREE 3-dimensional sketch of your dream wine room today! Contact us by clicking here!