Top Two Best Wood Products for Wine Rack Construction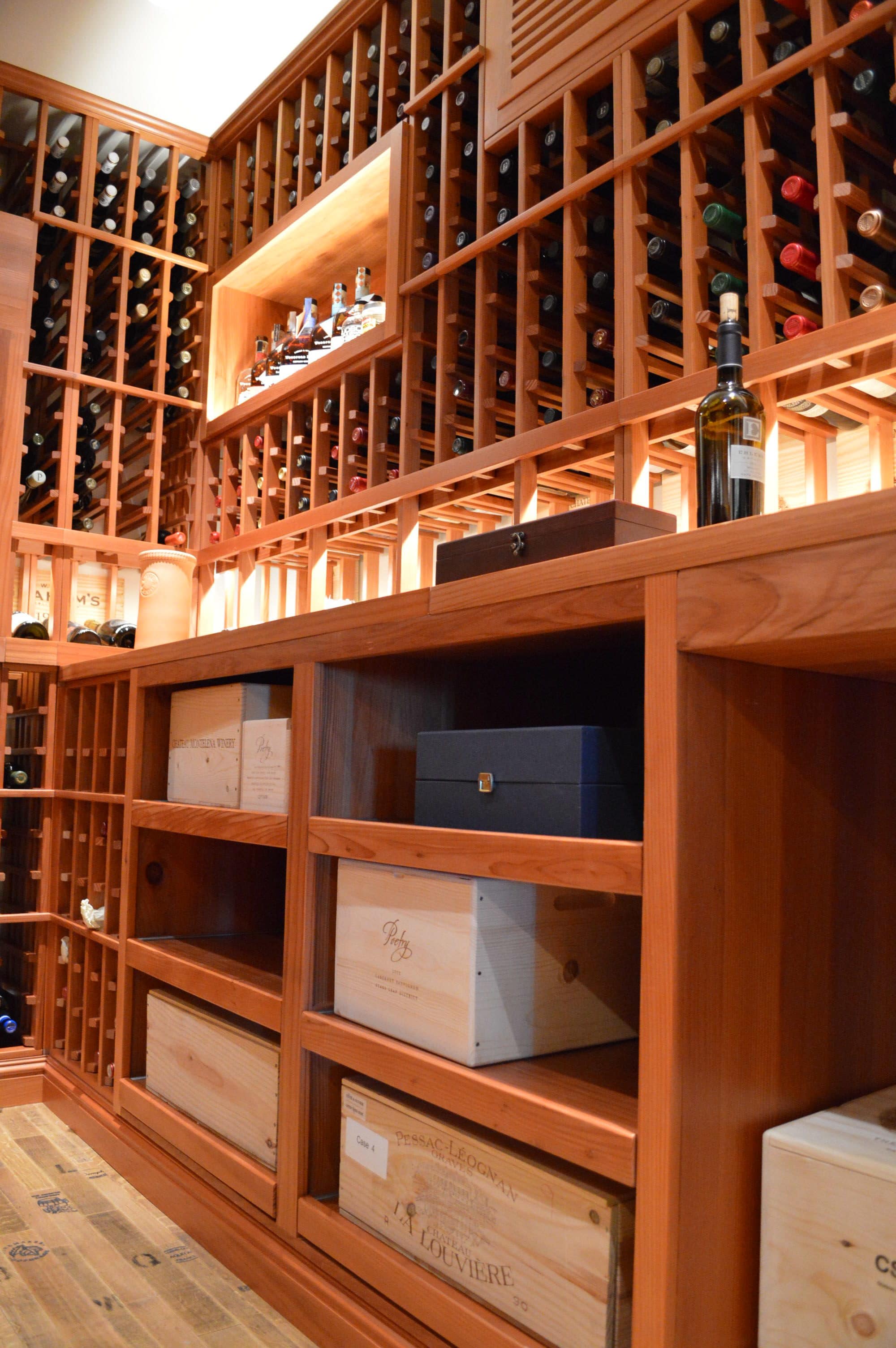 Using low-quality or substandard products in the construction of your wine cellar can cause you a ton of problems. Avoid wasting money by making sure you only have your builders use high-grade materials. The best wooden custom wine racks are those made from either one of these wood species: Mahogany and Redwood. Custom Wine Cellars Las Vegas can build residential or commercial storage facilities using these two wood types. 
Las Vegas Wooden Custom Wine Racks Made from Premier Wood Species
Imagine owning a wine cellar. You enter the storage room, and you feel a sense of awe as you look at the bottles laid down on the racks. Then, you hear a sound – a squeak, like an old door with a rusty hinge.
Then, you notice one of the displays shaking. The vibration is gradually getting stronger, and the sound is getting louder. You think, "What the heck is going on???" And then, in a puff, the racks go crumbling down and you see all the wines falling to the ground. Broken bottles and a wreckage – to say this is a devastating sight is an understatement!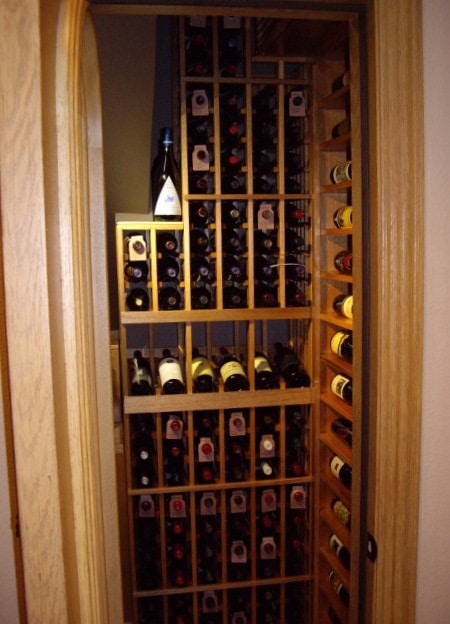 You should never settle for less when it comes to the storage place for your wines. The choice of materials for the construction of your cellar should never be taken for granted. If you allow the use of substandard products in the building of your wine room, you only have yourself to blame when catastrophic scenarios, like the one above, happen.
Wood is the Top Choice of Material for Building Custom Wine Racks
Wine cellars can be made from different kinds of materials, depending on the look the owner wants to achieve. The most popular product used in wine cellar construction is wood. Wine racks made from wood help create a traditional ambiance and a rustic vibe in the wine room.
Wood is the top choice for building custom wine racks and displays because of its natural beauty. Even when kept unstained or unfinished, most wood products are aesthetically appealing. The application of a finish or a stain will help enhance the tones and hues of a wood species.
You can choose from a variety of wood species on the market for the construction of your wine racking systems. But, expert builders recommend choosing from only two of the best wood types. The top wood materials for building wine racks and displays are:
1. Mahogany 
Mahogany is one of the most durable wood species available on the market. This wood variety is noted for its attractive grain patterns, which include blister, mottle, ribbon, ripple, and stripe. These closed grain patterns make it a very stable product. It is also highly resistant to warping and insect infestation.
This wood product's color depends on where the tree was grown. Mahogany can either be gray, pink, red, orange, or brown. These tones can become darker and more enhanced if a stain is applied.
There are many varieties of Mahogany. A few of the most common ones are:
a. Prime Mahogany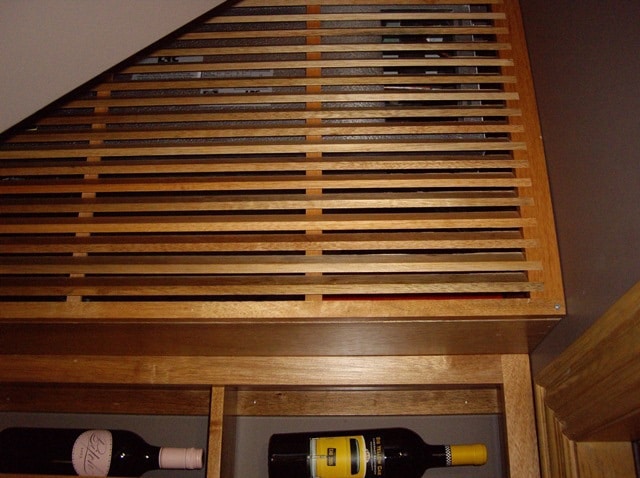 This kind of Mahogany is harvested from the Southern part of Asia. Prime Mahogany is known for its reddish-brown tones that are strikingly beautiful even when unstained. It has a tight grain pattern, and it absorbs stains and finishes easily.
Prime Mahogany is a superior dense hardwood, but it is not as expensive as most hardwoods.
b. Sapele Mahogany
Sapele Mahogany is commonly known as simply, "Sapele." It is a cost-effective but very durable variety of Mahogany. This product is grown abundantly in Africa.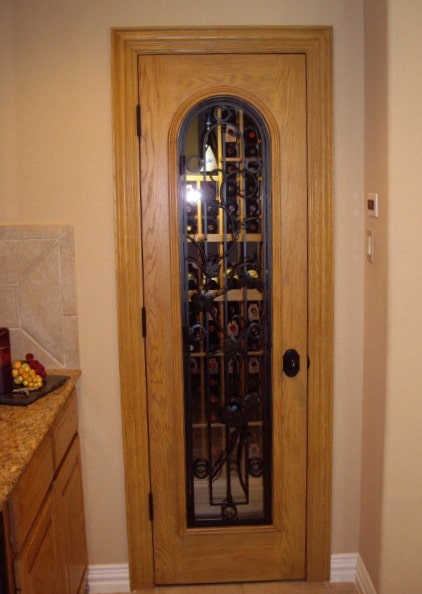 It's a popular product used in wine cellar construction because its natural grain patterns effectively create eye-catching racks and displays. It also has dark reddish hues that develop more over time. Moreover, master builders love Sapele because it does not emit any odor that can affect the flavor of wines.
c. Philippine Mahogany
Also known as "Lauan" or "Meranti," Philippine Mahogany is a variety of Mahogany grown in the luscious tropical region of Southeast Asia. The superior stability of this wood type makes it one of the best products used in constructing wine racks and displays.
Philippine Mahogany is known for its grayish tones and warm appearance. The application of a stain will help enhance the wood's colors to make it more vibrant.
d. Genuine Mahogany
Genuine Mahogany, also known as Honduran or Big Leaf Mahogany, is a beautiful and strong kind of wood. It has a ripping grain pattern with an orange hue. These grain patterns can be wavy, interlocked, straight, or irregular. Genuine Mahogany has moderate clusters and has a medium texture.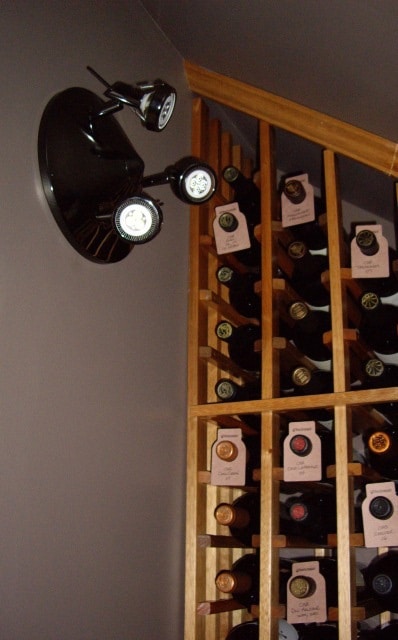 2. Redwood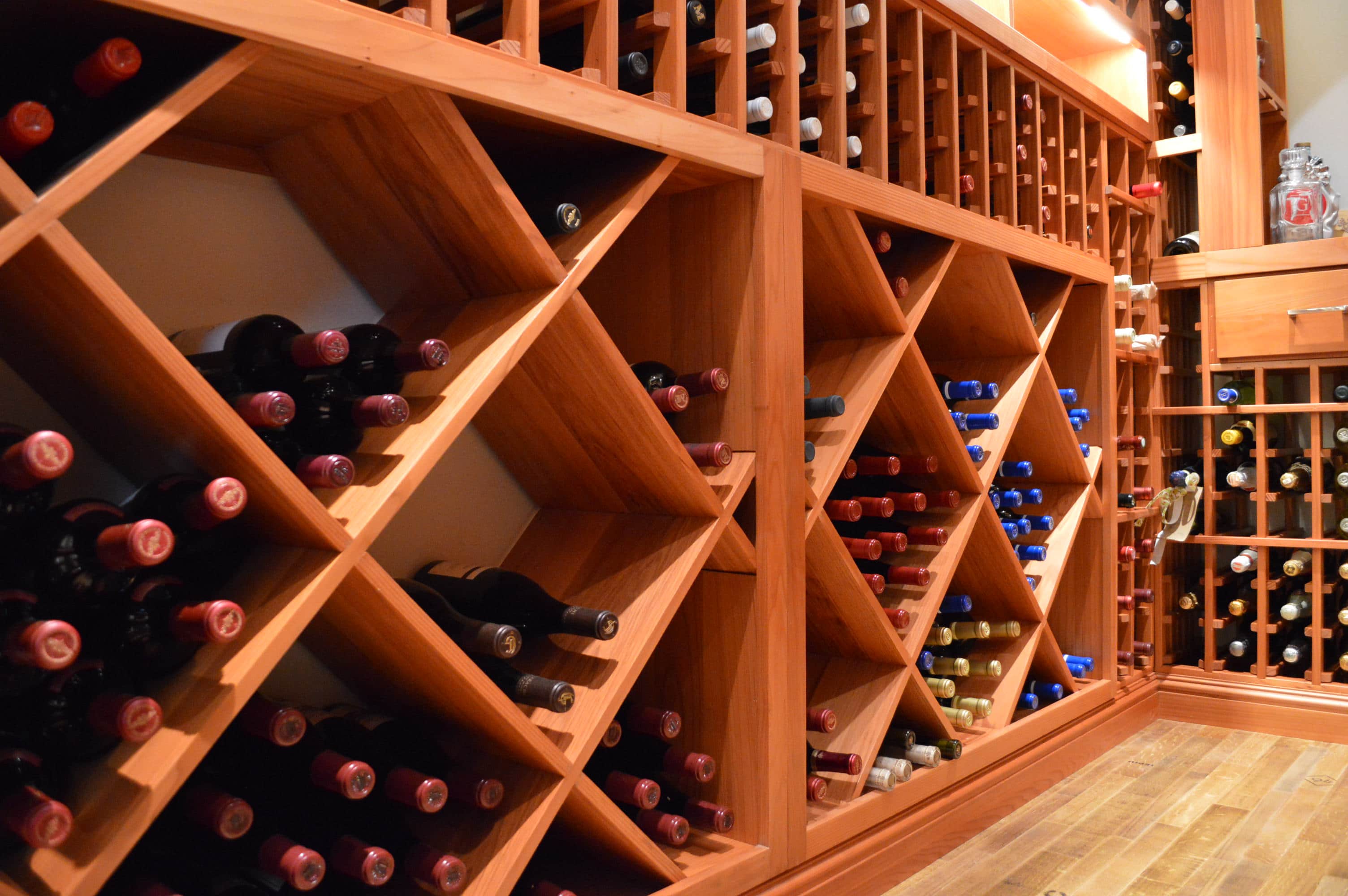 Redwood is among the top two wood species that our experts here at Custom Wine Cellars Las Vegas would recommend. It is commonly found in Nevada and the coasts of Oregon.
Because of the climate in the areas where this wood variety is grown, it can withstand the highly humid environment of a wine cellar. Its natural preservatives will help make it last longer than other types of wood. Redwood is resistant to mildew, insects, and decay.
There are two popular types of Redwood available on the market, and they are:
a. Clear All Heart Redwood
This is the finest type of Redwood on the market. Wine storage builders and contractors love using Clear All Heart Redwood in constructing racks because of the material's resiliency to warping, shrinking and rot. Aesthetically, it is a favorite because of its lustrous red tones that develop beautifully as the wood ages. This material is harvested from the core of the Redwood tree.
b. Premium Redwood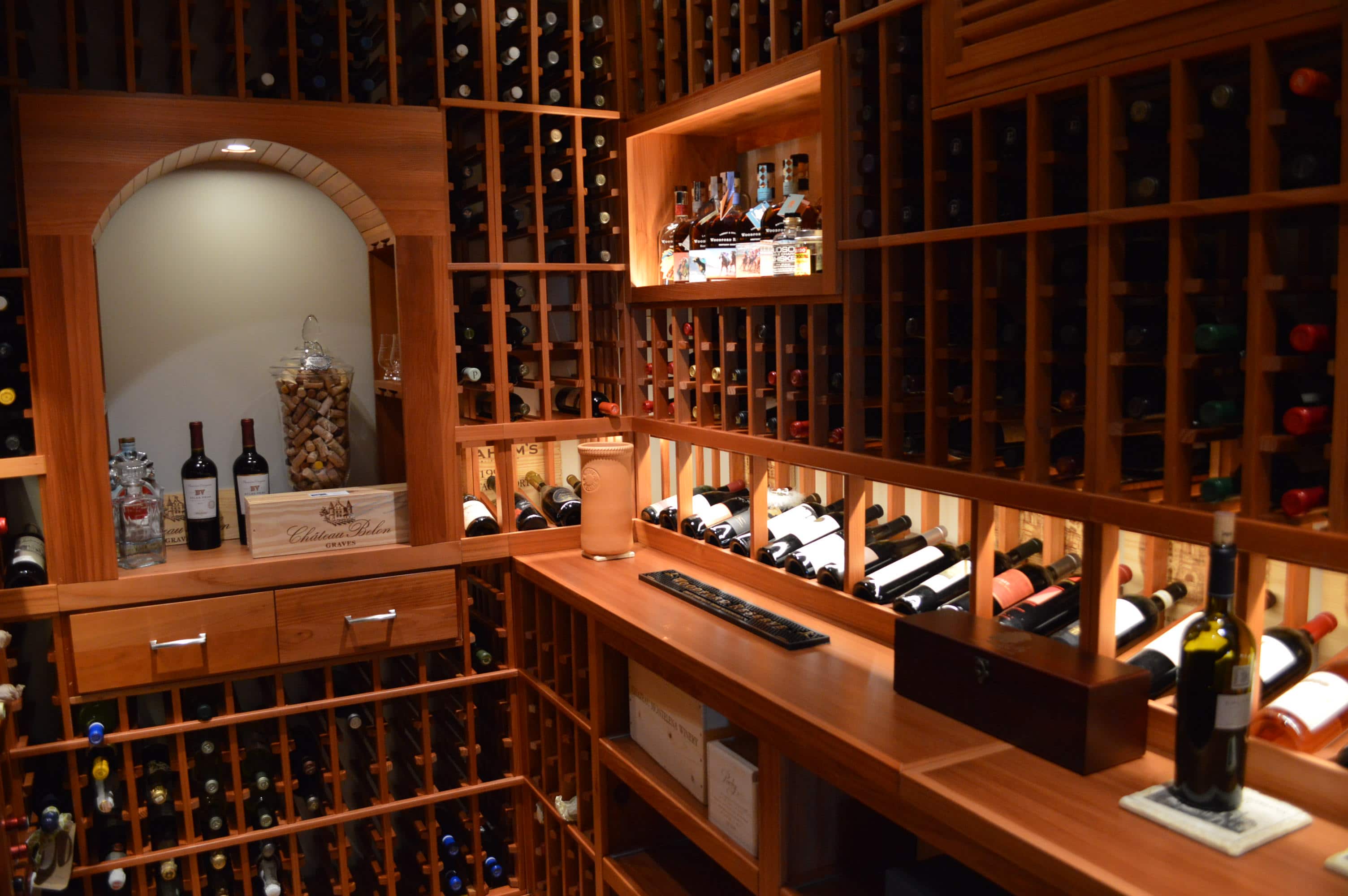 Premium Redwood is ideal for those who want a lighter color for their wine racks. This type of Redwood is known for its distinctive colors, such as purple and pink. It has characteristic white swirls and streaks that help create gorgeous wooden wine displays.
Need Help With Your Wine Cellar and Racking Design?
Whether you are building a residential or commercial custom wine cellar, we have the perfect wine rack system for your needs! We have expert wine storage designers here at Custom Wine Cellars Las Vegas. Call us today and we can help you conceptualize the design of your custom wine racks and displays. Our team can give you a FREE 3D drawing of the construction plan too. Click here!