Climate-Controlled Environments in Nevada Wine Cellars – Wine Cellar Refrigeration?
Most wine lovers from all over the world, including Nevada, desire comfort and convenience when accessing their favorite vintages. One of the best ways to achieve this is by having a residential wine cellar. This way, they don't need to go out and buy their wine every time they want a bottle, or if an unexpected visitor comes, they don't have to go searching to get the best wines to serve them.
In addition to easy access to wine, another main benefit of having a residential wine cellar is the proper storage of wine. This means that wine's enemies (too much light or heat and too low or too high humidity levels, odor, and vibration) can be prevented, thus keeping wine at its best before it is served and drunk.
In order to achieve the optimal conditions needed in a wine cellar to promote graceful aging of wine, crucial components such as a wine cellar cooling system and wine cellar door must be thought of very carefully.
The Wine Cellar Cooling System
A very important component of a wine cellar that aids in maintaining a climate-controlled environment is the wine cellar refrigeration system. Without it, the ideal wine storage temperature of 50-55 degrees Fahrenheit and relative humidity level of 50-70% cannot be maintained, resulting in wine defects.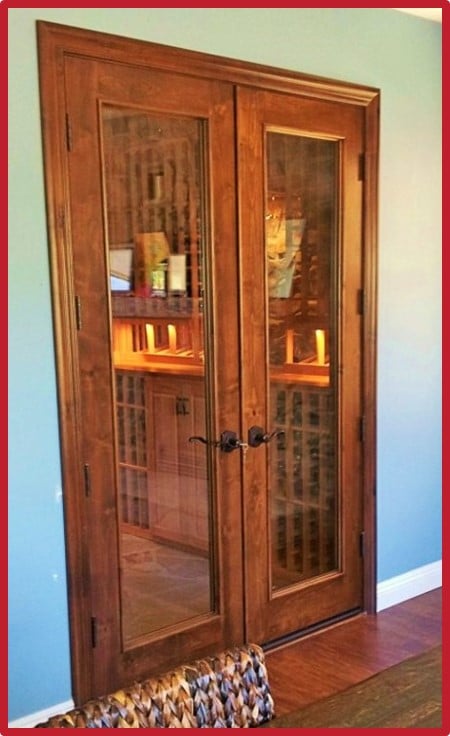 There are different types of wine cooling systems: self-contained through-the-wall, ductless-split, and ducted-split climate control systems. Learn about the advantages and disadvantages of each type at http://www.winecellarsbycoastal.com/wine-cellar-cooling-units-types.aspx.
Whether your wine cellar is in a garage, basement, or any extra space in your home, a wine refrigeration system is essential. Investing in an efficient cooling unit will save you money in the long run while ensuring that your collection is in good hands.
The Wine Cellar Door
Wine cellar doors are mainly designed to balance temperature, humidity, and light in wine cellars Nevada. The proper entry door to your wine room must be weather-stripped on all sides, double-insulated, and have automatic door bottoms.
These must be kept in mind, or else unwanted warm air will get in the wine cellar. This will then cause your wine cellar refrigeration system to work harder, resulting in high energy consumption. You don't want to be surprised when you receive your electric bill, do you?
For aesthetic purposes, you can choose glass, wood, wrought iron, or a combination of these materials for your custom wine cellar door. Depending on the look that you want in your wine room, the entryway to your collection can be customized to suit practically any idea you may have.
Custom Wine Cellars Las Vegas offer reliable brands of wine refrigeration systems and a wide array of wine cellar door styles to choose from. Work with them in your next custom wine cellar project. The result is a functional resting place for your collection that is built to last and will be the envy of your guests because of its beauty. Get a FREE 3D wine cellar design by clicking here.