Modern Residential Wine Cellars Require a High Quality Cooling System
The ideal storage structure for wines is a cellar that has an efficient cooling unit installed. Without the proper refrigeration system, your wine room cannot provide the required temperature and humidity that your collection needs to age properly. Without a dependable piece of HVAC equipment, your wines can get spoiled. Care is needed when selecting a cooling unit because different wine rooms have different needs. Modern residential cellars, for example, have distinctive storage requirements. An experienced HVAC technician can identify the most appropriate refrigeration system for any wine storage facility. 
The Inseparable Bond Between Proper Cellar Cooling and Graceful Wine Aging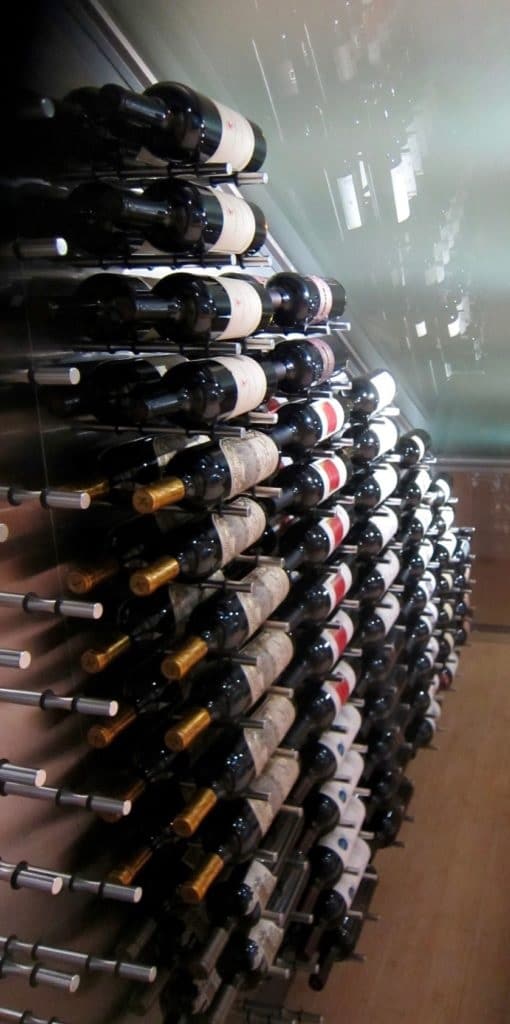 Wine and temperature have a relationship that is forever entwined. Wine cannot be enjoyed if it is not cooled to the proper serving temperature. And, wine cannot age and develop its flavors if it is not stored in a room where the temperature is at the ideal level.
Some people keep their bottles in a kitchen cabinet, a typical refrigerator, or in boxes. These people are not genuine wine enthusiasts. Those who truly love wine know that these bottles must only be kept in an ideal wine storage structure, such as a wine cellar. Therefore, if you don't have a wine cellar in your house, then have one built!
People who want to take seriously the hobby of wine collecting usually have a custom wine cellar built in their home. They'd look for an old room or an unused pantry, and they'll hire a master builder to convert the space into a functional wine cellar.
Custom Wine Cellars Las Vegas Teams Up with an HVAC Specialist for a Cooling System Installation Project in Nevada
The construction of a residential wine cellar is a necessary investment for avid wine collectors, like the client Wine Cellar Specialists recently worked for in San Rafael, Nevada. They renovated the space underneath the stairs in the home and converted into a beautiful wine room.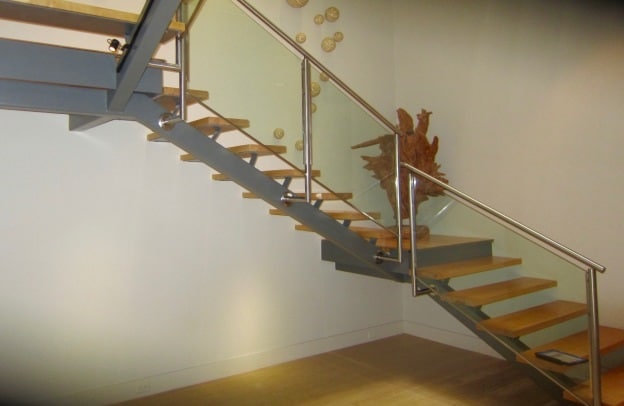 After the construction of the wine storage structure, we had one of our partners, US Cellar Systems, install a refrigeration system for the cellar. The team of HVAC technicians assessed the cellar thoroughly to determine the most appropriate cooling unit for it.
Installation of a High-Grade Wall-Mounted Cooling Unit from US Cellar Systems
The residential wine cellar in this project had a very unique structure since it was built underneath a staircase. There was also limited space inside the storage room. It was a challenge for the team of wine cooling experts from US Cellar Systems to find a refrigeration system that would meet this cellar's distinctive requirements. The equipment they choose should also be able to provide the ideal temperature that ranges from 55-65 degrees Fahrenheit and a relative humidity that is within 60-70 percent.
The team of HVAC experts installed a WM6600 wall-mounted refrigeration system. The unit was made of galvanized silver metal with a rust-resistant aluminum housing. It also had an automatic expansion valve, which is needed to regulate humidity.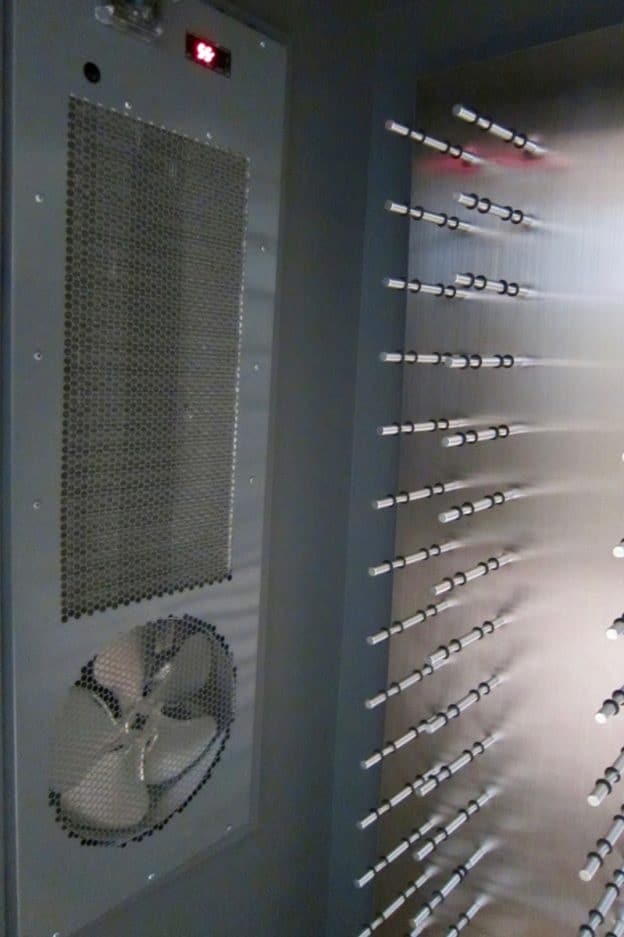 The cooling specialists chose this specific equipment because it would fit perfectly in between the studs of the cellar wall. The evaporator was mounted vertically between the wall studs at the end of the left wall. Our designers also had the walls slightly built out, so that the HVAC technicians could install three inches of foam behind the refrigeration unit.
The condensing unit, which is the noisy component of a refrigeration system, was placed in a separate area. This helped reduce the noise inside the San Rafael modern wine cellar.
The installed equipment also had a digital thermostat and a temperature sensor, both of which are necessary to ensure that the climate conditions inside the wine cellar do not fluctuate. Fluctuating temperature and humidity levels can damage the wines stored inside.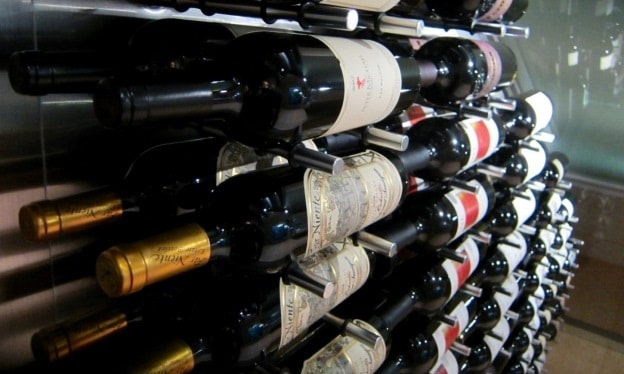 The client wanted the equipment to blend well with the wine cellar and the staircase. So, the fabricators applied a powder color coat to the cooling unit to make it blend with the steel beams of the stairs and the wall paint of the cellar.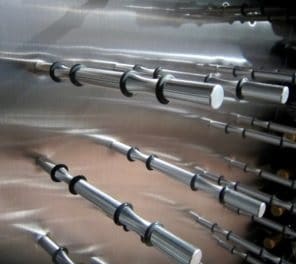 US Cellar Systems – Trusted HVAC Specialist in Nevada
When building a custom wine cellar, you want to make sure that every single part of the structure is made from high-quality materials. The same standard should be applied when choosing a cooling unit for the wine room – pick only the best equipment.
US Cellar Systems has over 40 years of experience in the wine refrigeration industry. We, at Custom Wine Cellars Las Vegas, have worked with them on numerous projects because they are one of the most trusted HVAC manufacturing companies in Nevada.
All of their refrigeration technicians are trained to provide top caliber services, such as wine refrigeration unit repair, installation, and maintenance. For more information about US Cellar Systems, you can visit their site by clicking here! Or you can call them at +1 (562) 513-3017.
Custom Wine Cellars Las Vegas – Premier Storage Manufacturer in Nevada
Custom Wine Cellars Las Vegas is one of the leading master manufacturers in Nevada. We team up with other leading contractors to create aesthetically pleasing and functional wine storage structures. The cellar designs we offer range from traditional to contemporary. Let us help you build your dream residential wine room. Contact us today, and we'll give you a FREE 3-dimensional drawing of your desired custom home cellar. Call us at +1 (702) 866-9544 now!